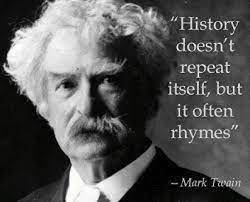 I'm often reminded of how Mark Twain was rather prescient in regards to markets. Let's reminisce a bit, back to a simpler time, when an obscure entity named Grayscale Bitcoin Trust (GBTC – USA) was hoovering up Bitcoins on a daily basis. I predicted that eventually, it would acquire enough of the "free float" that it would lead to "price discovery." A few months later, I believe things played out roughly as I expected them to.
I bring this up, because roughly a year later, I saw a similar trend where an entity named Sprott Physical Uranium Trust (U-U – Canada) appeared to be doing a similar thing to the uranium market. In fact, it became so obvious to me that we'd see "price discovery," that I've affectionately named it SPUT, which is short for Sputnik, as I believe Sprott ultimately sends uranium intergalactic. Sure, this is all old material that I've covered many times. Instead, I want to bring up the charts, because this is where Twain would nod and giggle like a schoolgirl.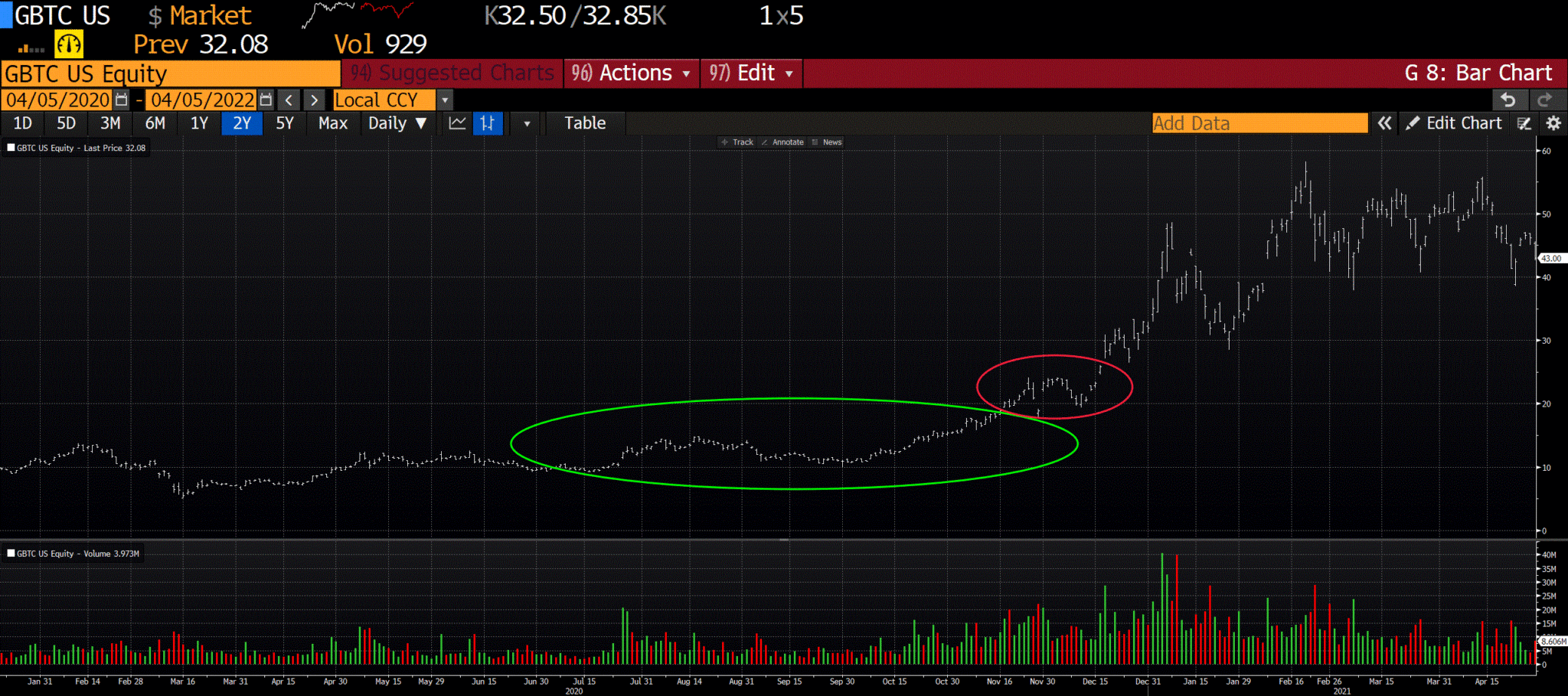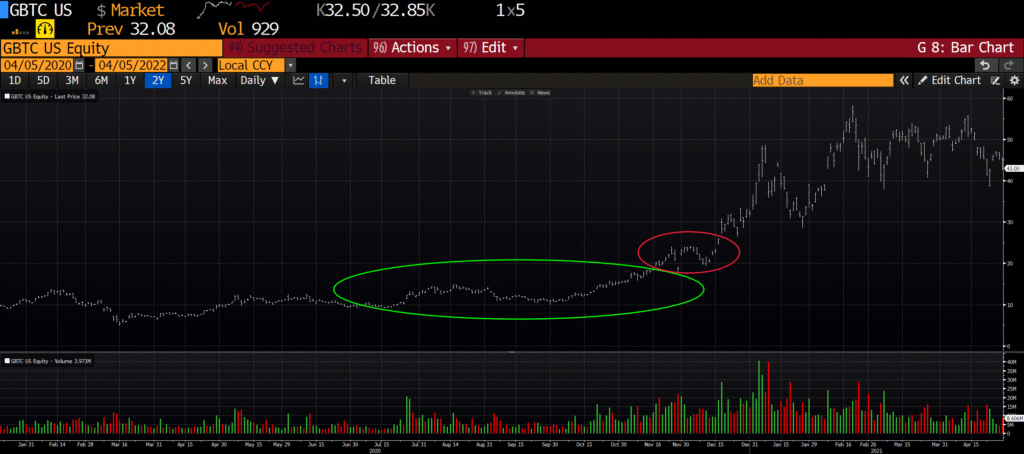 Note that there was a surge in July on a spike in volume, right about when I flagged how GBTC was accumulating a staggering number of coins. Then it pulled back into the range and digested that move. It chopped up the Bitcoin tourists, bored the retail players and created a base (that green oval) as it continued to accumulate coins. As it exited the base in October, the volume picked up. Then in November, it started making new highs on accelerating volume with a few small pullbacks along the way. It built what chartists would call a "pennant" in November (that red oval). Then, when it broke out of the pennant, it started to accelerate with big ranges and a lot of volume.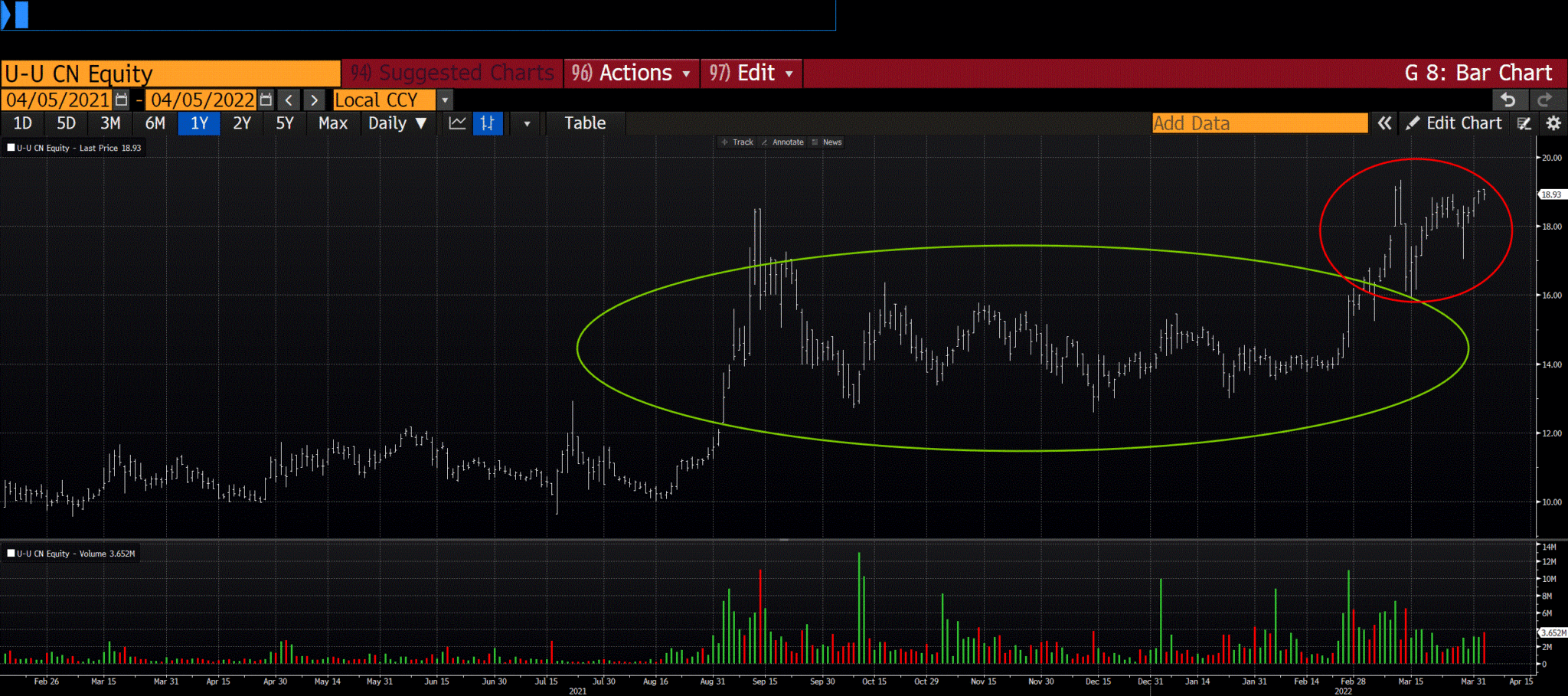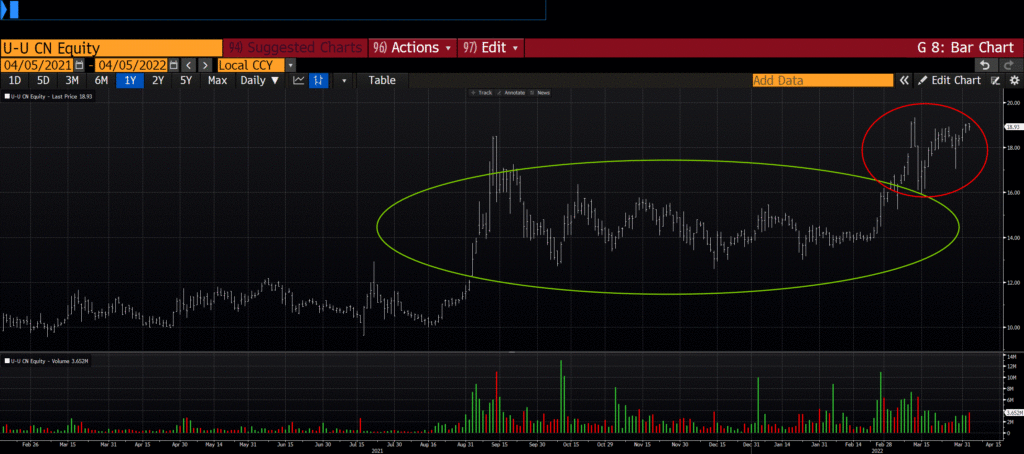 Now, don't think I've gone to the dark side and become a chartist. Far from it!! I'm firmly of the view that fundies rule the markets and chartist just lag behind the guys doing the actual thinking. That said, as a bemused hedge fund manager, I'm willing to accept that Twain may have had it right. Sometimes these things really do rhyme…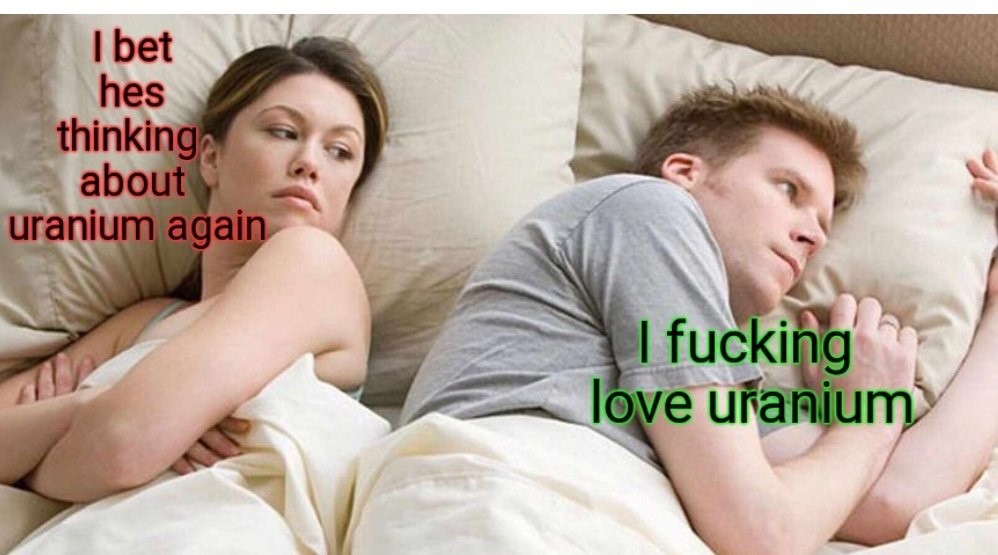 Back in November of 2020, right as the GBTC pennant was waking up (red oval above in GBTC chart), I wrote two posts in my enthusiasm for what I felt was imminent. I'm going to save myself the trouble of writing anything else about Uranium. Simply replace Bitcoin with Uranium and GBTC with SPUT, in those two posts. You'll get the gist of things. (This is my subjective opinion. The SPUT trade may not follow the GBTC trade and could be unprofitable.)